Fruit Infused Water Bottle and Pitcher Reviews
There are a number of fruit infused water bottles and pitchers available on Amazon which makes creating an infused water recipe easier. These bottles and pitchers are dishwasher safe and make a nice table-ready pitcher for serving your flavored waters.
We've checked out a few of the top selling fruit infused water bottles available on the market, and here are our thoughts on these products. We tried to provide you with a list of the best: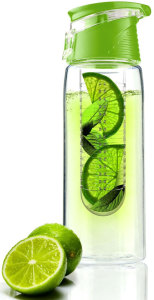 Asobu Tritan Flavor it Water Bottle
Most Popular Travel Bottle
This tough little fruit infused water bottle is great for taking to the gym, office, school, travel, the outdoors — just about anywhere you go every day. It's made of impact resistant plastic so it won't break if it's dropped and can handle very hot and cold temperatures. It comes in many colors including red, yellow, green, blue, and yellow.
The stylish design and portability of this little bottle makes this one of our favorite picks.
Heavy Duty Infuser
This fruit infused water bottle is great for travel, which makes drinking more water on the go easier. It's made of heavy duty plastic, it's easy to clean, and holds a decent amount of water. It has a rubber bottom which makes it easier to keep on top of smooth surfaces, like your desk at work or a table at a restaurant.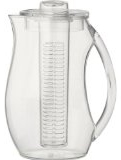 Prodyne Fruit Infusion 2.9 Quart Pitcher (currently on sale!)
Our Favorite Pitcher
This larger-sized pitcher is our favorite for one primary reason: it's BIG! If you're going to go through the effort of making a batch of fruit infused water, you want to get a lot out of it, right? It's also handy to be able to take this attractive acrylic pitcher from the refrigerator and put it right on the kitchen table.
AdNArt Flavour It Glass Water Bottle 20 Ounce

Our Favorite Glass Infuser
This is the smallest of the three bottles at 20 ounces, but it is the only fruit infused water bottle made of glass, which I liked, and it is also colorful and fun looking. You can only add about 3/4 of a bottle of water to avoid overflowing when you place the fruit infuser back into the bottle.
Our Favorite Zinger
This "Zinger" is a fruit infused water bottle with a small grinder built into a compartment in the bottom to extract extra flavor. A mesh on the bottom compartment keeps the pulp from transferring back into the water bottle. This is a fun little infuser bottle that really adds a flavor kick to your fruit infused water!

D'Eco Fruit Infuser Water Bottle with Straw 20 Ounce
Most Affordable
At only $7 each, this is a the most affordable fruit infuser. It's made of durable plastic and gets positive reviews on Amazon. The very low price  makes a good gift for friends that you want to help drink more water. Or buy a few to have at home, work, school, gym locker, etc.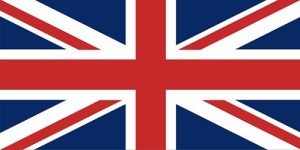 UK Customers <– click here!
Our opinion of the best fruit infused water bottle:
All in all, we found all of these fruit infused water bottles worked fine. Your choice would depend primary what was most important to you: Size, portability, or style. As long as whatever you choose helps you drink more water, you can't lose with any of these great products.